Our Drain Services
Drain problems can become messy very fast if not dealt with promptly. At Kerry Drain Services, we work with our clients to provide a fast turnaround time. This is achieved through efficient service, experienced staff and state of the art equipment.
Drain Surveys and Reports We provide surveys of all lines as found on site, recorded on state of the art high quality digital equipment.

Drain Cleaning We can clean your drains and help to keep them working smoothly, avoiding build-ups of waste which can lead to blockages.

Regular Site Inspection We will check, clean and disinfect your entire sewer system as often as is required. We will also issue a certificate at the end of each visit, ensuring that all paperwork is in proper order.

Assessment We can provide an assessment of your current requirements and advise on what service we feel would best suit your needs.

Ground Works We can arrange to repair a variety of damaged sewer lines including collapsed soakaways.

Toilet Unblocking One of the main parts of the drainage system that gets clogged, is your toilet. When this becomes blocked, it required immediate attention. At Kerry Drain services, we can fix the problem, but more importantly, determine why it happened in the first place.

Drain Unblocking We provide emergency cover seven days per week to assist you immediately if your drains become blocked.

Emergency Cover We provide emergency cover to unblock any problem drains. Simply call us today.

Septic Tanks We empty septic tanks and bio units.

Problem Solving If drains are blocking often, we can investigate and devise a solution.
Drain Surveys and Reports
Our team can call into any property (generally properties our clients are interested in buying) and carry out a full inspection.. This will determine what condition the entire drainage system is in, including pipework, septic tanks and so on. If there are any problems – we let you know straight away. It can be very costly to replace or repair poor or damaged drainage systems. It is very important to know EXACTLY what you are getting when considering buying a property.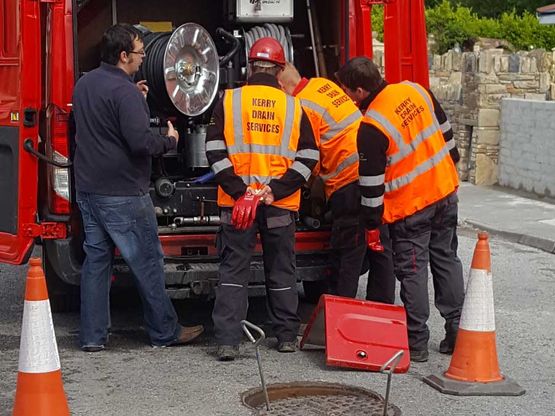 We Deliver a Service That is Top Quality and Affordable
We cover all of Kerry and carry out a lot of work in areas such as Tralee, Killarney, Dingle, Killorglin, Kenmare & Listowel.
If you have any questions, simply ask a member of our team.
Blockages can be a stressful situation. There's nothing worse than an overflowing or blocked toilet that won't flush or a blocked shower or basin that won't drain away. Fortunately, Kerry Drain Services have all the experience and expertise required to sort the problems quickly with a minimum of fuss, as well as to help ensure that they don't happen again in future.
With one of our qualified drain technicians always around Kerry we'll be with you fast to fix any problem as soon as possible. If there's a persistent problem, we can offer a CCTV Survey of your drains to get to the root of any problem before recommending a fix.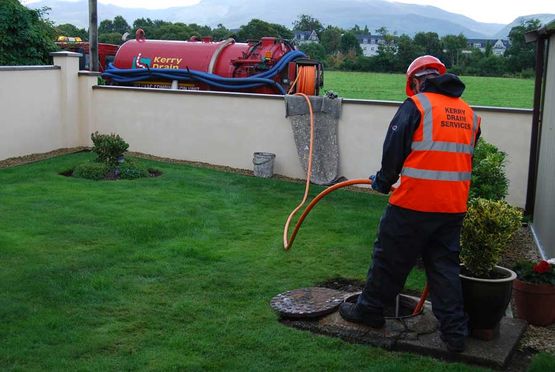 We provide unblocking for:
Toilets

Sinks

Baths

Showers

Floor Gullies

Yard Gullies

Grey Water Blockages

Soak Pits

Percolation Areas

Downpipes

Foul Sewer Drains

Storm Drains

Land Drains

Culverts
Kerry Drain Services can provide a number of services for your septic tank or bio cycle unit system. Like any sewage treatment system, septic tanks require regular maintenance to ensure it functions effectively and protects the environment. While many septic tanks in Ireland functioned for many years without de-sludging, an increase in the use of detergents and other materials over time may have affected the biological process in the system and solids may not break down as quickly. Whether you need to de-sludge your tank because it is backing up in the drain to your house or you are due a service under Septic Tank Regulations, Kerry Drain Services are at hand to assist you.

We don't just empty your Bio Cycle Unit but make sure it's clean, in good working order and filled back up with clean water as per manufactures instructions.
When there is access we can also jet clean the pipes coming in and going out to your percolation or soak pit.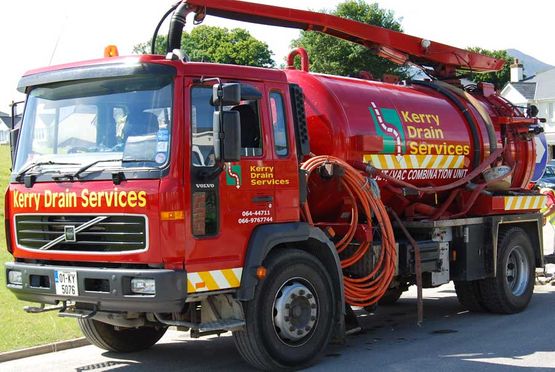 Kerry Drain Services are fully Licensed by the local Authorities to remove, carry and dispose of your waste accordingly. All waste removed from your home by Kerry Drain Services will be taken for certified disposal at a registered facility. All our staff are fully trained and qualified to handle sewage sludges. All our units are equipped with all the tools necessary to carry out the works efficiently and safely. Before we leave your house, we will give you a job sheet Docket with Waste Permit Number.
Emergency Cover

Operating 24 / 7 – 365 Days a year. For Emergencies Contact: 087 9107777
Here at Kerry Drain Services we recognise that when something goes wrong, it can add another stressful pressure to your already busy day. That's why we're contactable 24/7 365 days a year.

Blockages can be a stressful situation. There's nothing worse than an overflowing or blocked toilet that won't flush or a blocked shower or basin that won't drain away. Fortunately, Kerry Drain Services have all the experience and expertise required to sort the problems quickly with a minimum of fuss,with one of our qualified drain technicians always around Kerry we'll be with you fast.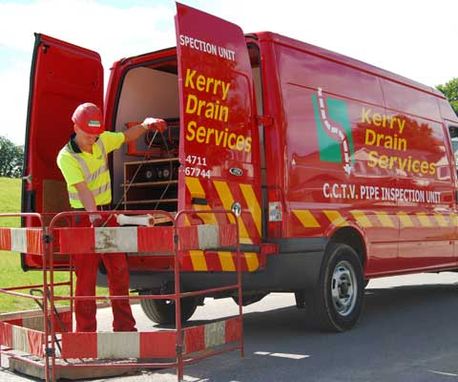 So, whatever time day or night we will be there for you.
If your drains are blocking on a frequent basis there may be a more extensive problem which needs to be addressed. A CCTV drain inspection can easily and quickly assess the condition of your drains and identify any problems such as damaged joints, cracks, deformities, obstructions or issues with pipe gradient (sagging or back falls). Once the problem is established, we will advise of the best type of repair for your home.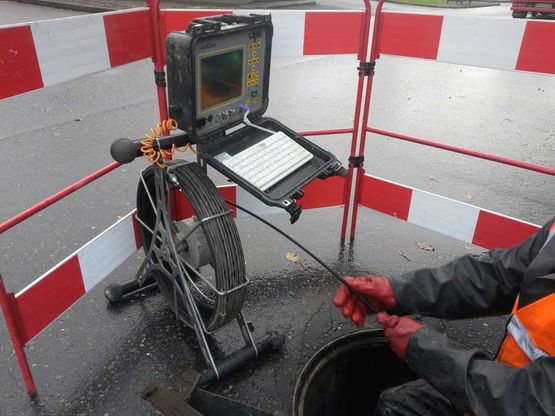 If you are considering purchasing a property, your engineer may recommend a survey of the property's drainage system. Much of the drainage system is hidden from view under the ground and the only way to thoroughly check its condition is with a CCTV survey. Here at Kerry Drain Services we offer professional drain surveys and inspection reports to put your mind at ease that your new home's drainage system is connected and working properly to avoid any nasty and expensive surprises down the line.

By ensuring that the drains are watertight and efficient in your new property, you can rest assured that your home will remain safe and secure in regards to its existing plumbing and drainage system. We also offer inspections of septic tanks for rural properties to ensure proper drainage and set-up in your property.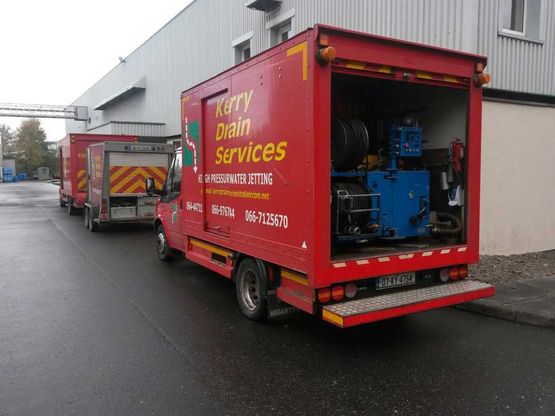 Drain Tracing and Mapping
Often customers are not sure of which way their drains run or need to know where a drain fault is located so a repair can be carried out. Kerry Drain Services can accurately locate the position of the pipe or any defect and mark it for you at ground level. Before you lift a shovel, allow Kerry Drain Services to use our sonde systems (CAT & Genny) in conjunction with our high-pressure jetting and CCTV surveying equipment and we will be able to detect and tell you exactly where the problem is located. No need to lose time and money digging in the wrong place! We use a range of tracing equipment to track your drainage systems. Our equipment travels through the pipe itself so is not affected by pipe material.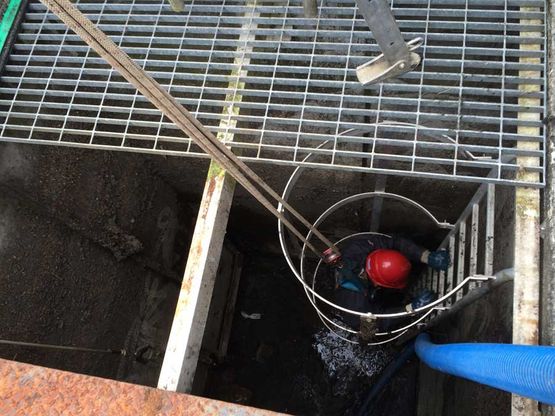 In addition to safety reasons, it is important to know exactly where to dig so that there is no time and money wasted digging in the wrong place.If you are planning an extension or new build, you will need to know where the existing drains are positioned and at what depth they are laid. Kerry Drain Services can find this important information and you can then plan with confidence.
Drain smells in your home are never pleasant, often embarrassing and typically intermittent. If you experience foul odours in your property or business which you suspect may be related to the drains, Kerry Drain Services can track down the source of the problem using our specialist smoke testing equipment. Often the cause of the smell may be quite easy to fix.

As these smells tend to come and go, it can be frustrating trying to figure out where the problem is coming from, particularly if they have disappeared by the time we arrive on site! Using our specialist smoke testing machine, we will introduce smoke to the drainage system which will follow the flow of air in the pipework and then will escape from the pipe at the same point as the smell. We can then trace the smoke visually and establish the location and nature of the fault.

We have traced drain smells for over 17 years and have come across all sorts of drain defects which lead to the escape of bad smells. Because of this experience, our drain technicians will know how to best test your system to get the required result.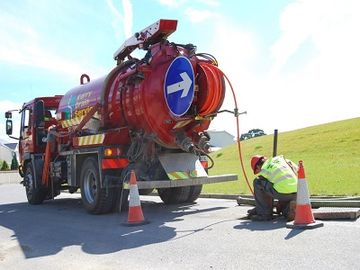 Drain Services FAQ
What is the best way to clear a blocked drain?

If a drain in your property is blocked, it's important to call a professional for drain unblocking services- otherwise, you could risk damaging your drain system. Kerry Drain Services provides professional drain services for customers across Kerry, Limerick, Cork, and the surrounding areas.

I need an emergency plumber to unblock my drain- can you help?

Yes, absolutely. Kerry Drain Services provides emergency drain unblocking services to customers in Kerry, Cork, and Limerick 24 hours a day, 7 days a week.

How much does it cost to get a drain unblocked and cleaned?

The price of drain unblocking, drain cleaning, and our other drain services varies depending on the scale of the job. Contact our team today for a free, no-obligation quote on all of our services today.